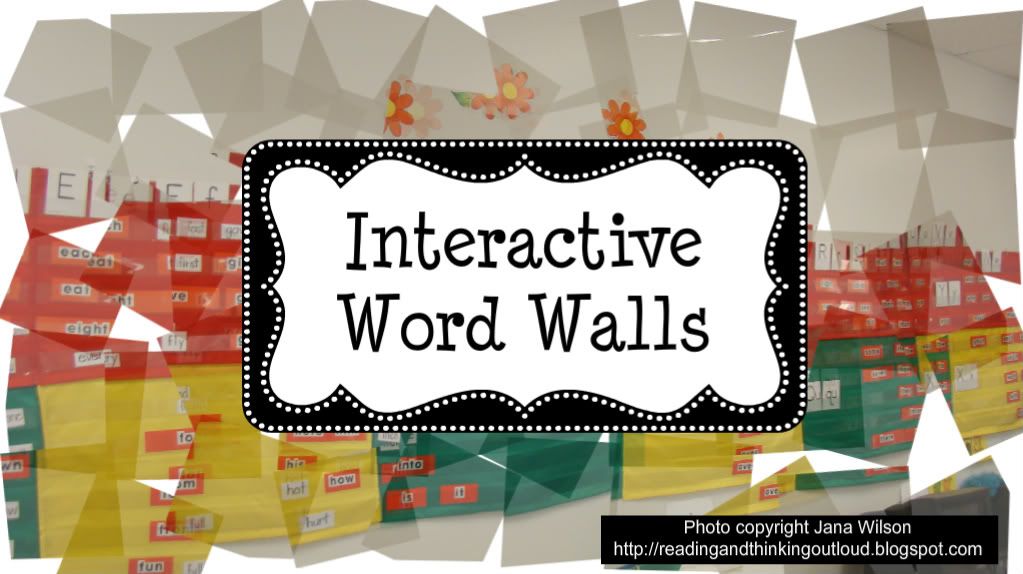 Hello Kreative in Kinder fans! My name is Jana and Crystal is giving me the great opportunity to guest post for her today.
Every teacher I know has a word wall...a word wall for sight words, math vocabulary, read aloud vocabulary, important science words, etc. When I first started teaching reading, I was told I needed a word wall, so I posted one in my classroom. We were reading a chapter book, so I thought it would be a good idea to color code the words by chapter...made it look prettier. Looked great, but the word wall was a complete compliance issue for me. I didn't know what I was supposed to do with the word wall once it was posted. I knew the students were supposed to use the word wall, but I didn't know how to get them to use it. That was nine years ago. I have changed subjects, grade levels, and positions since then, and I have learned a lot through experience, reading books/journals, and researching all the fabulous teacher blogs. Here are few of my favorite ways to make word walls interactive.
Wordo
Wordo is played just like bingo but with words instead of numbers. Students are given a blank Wordo card. Each student chooses words from the word wall to fill out the card. The teacher has the word wall words on small cards and randomly pulls out a card. The teacher reads the card and the students place a marker on the word if they have it written on their card. The markers can be dried beans, macaroni, buttons, etc. When a student gets five in a row, he or she wins. To get you started, I created a file that has a blank Wordo card, all the Dolch sight words (so you can print them on card stock), and blank word card template (so you can add your own words).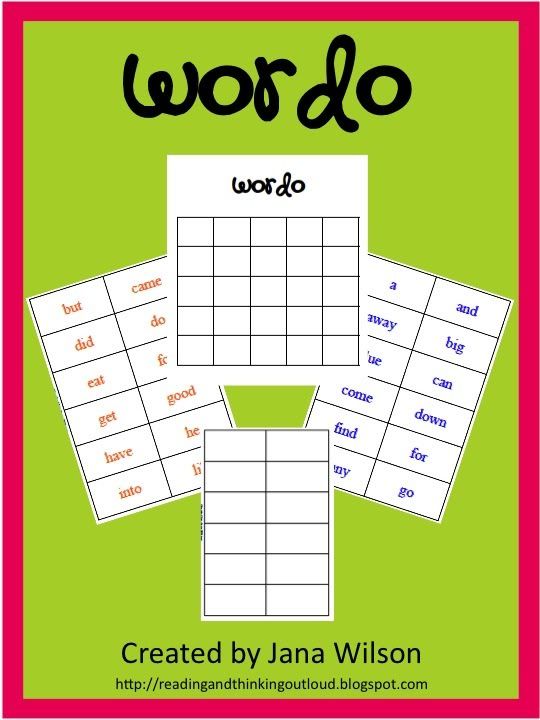 Rhyming with Word Wall Words

Select a few word wall words to review each day. Give students a half sheet of paper (or they could record in a journal). Give them the first clue (see example below) and have students use the word wall to figure out the word and then write it on their paper.

Our first word starts with /th/ and rhymes with bat. (that)

The next word starts with /l/ and rhymes with bet. (let)

Our last word starts with /r/ and rhymes with man. (ran)

*Credit for this idea goes to two of the kindergarten teachers at Chet's Creek Elementary in Florida. My school took a team for a school visit and we were able to visit classrooms while we were there.

During Writing Workshop

When I am modeling writing for students, I make sure to use word wall words. Here is how it might sound:

"I am writing a story about my cat going to the vet. She hates going to the vet. I am going to start with that. (writing on chart paper - Kitty hates....) Going, going, I am not sure how to spell that but I can look at our word wall and see if it is there. I know that it starts with /g/, so I am going to look under the letter g. (Reads through the g words until gets to going.) There it is, going. (Continues writing on chart paper.) Kitty hates going to the vet."

Do your students use your word wall? How do you engage them in using the word wall?

Jana Wilson is currently a PK-3rd grade Master Teacher who is in her tenth year of teaching. She has taught 7th and 8th grade (reading, English, social studies, and science) and has been a Literacy Instructional Coach for grades 4-7. She is the author of

Thinking Out Loud

, a blog dedicated to sharing resources for a variety of grade levels and subjects. You can find her at her blog, Facebook page, and Twitter.